Contact me via: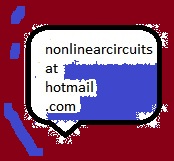 Sometimes I have PCBs for sale or complete panels full of analogue joy.
Details will be on my blog - http://nonlinearcircuits.blogspot.com/
forums
Analog Synth Japan
electro-music
muffwiggler
Deviant Synth
All great forums for synth diy and modulars, can find me on e-m & muff as andrewF
Synth companies - I've never actually bought any synth modules, but if I did it would be from these fine vendors (UPDATE: april 2011 see LZX below):
Equinox OZ - synth module supplier in Australia!!!
Metasonix - tube synths & modules
Paia
Elby designs
Metalbox
- CGS designs ready made
Bridechamber
- great range of unusual modules and PCBs
MagicSmoke
- Source of Thomas Henry modules, books and PCBs
and VIDEO SYNTHS:
LZX VISIONARY MODULAR VIDEO SYNTHESIZER
.
After years of solid DIY I have ordered the two core video synth modules from LZX.
They can be used as the foundation of a large modular video synthesizer.
The guys at LZX know their stuff and have come up with a great and growing range of video synthesis modules.
By no means an exhaustive list, plenty more module manufacturers out there.
PCBs: If you haven't figured it out yet I like CGS designs.
CGS synth (Ken Stone)
Chaos - have a good hunt around J. Sprotts pages, plenty of info
- Sprott -
- Ian Fritz -
- Maybe the 1st person to design chaos circuits specifically for synths.
Click to join chaos_in_synths
- A Yahoo group for sharing, developing and discussing chaotic circuits to be used in synthesizers.
Tube synths - A good starting point is the CGS homepage, also
Click to join tubesynthdiy
Get your music on vinyl at
- Perthectionist vinylrecording -