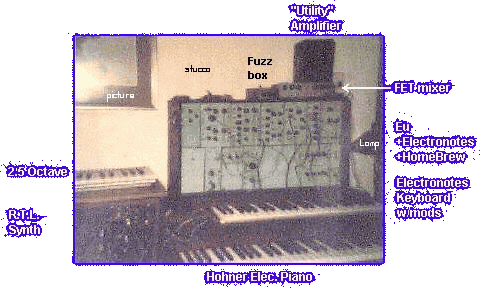 The Big Box
Top Row, left to right:
1496 Ring/Balanced Mod (Electronotes)
4 Eľ VCO's (potted modules with Electronotes waveshapers: only 2 have sines)
Eľ Universal Active Filter (a 2-pole state-variable filter potted module lp-bp-hp-notch. Not intended as a main VCF but I found it more than adequate.)
Electronotes 2-pole state-variable VCF
Dual 3-input mixer
Eľ Dual VCA (kit)

Bottom Row:
Blank
Multiples and Keyboard interfacing
LFO with triangle and variable width pulse
Noise, VC Comparator, Gate & Trigger Delay
Large Blank
2 Electronotes ADSRs
Power Switch w/leds and connector with +/-15v, 5v, and Gnd for powering breadboarded circuits.

The case had a high base to allow the 4-octave keyboard to fit inside for transport. I transported the beast only once to play in a hastily formed band for an office party. Never again. I really want to re-package this; new case, new front panels, improvements to the innards.
Upper keyboard is Electronotes ENS-76 digital with my revisions
Lower keyboard was a Hohner Electric Piano

The small keyboard partly visible on the left is 2 1/2 octaves and sits atop my first synth, built with Motorola RTL! It was based on a design called Digi-vox by Ralph Burhans. I couldn't get some of it to work, so I substituted circuits from other sources: PAIA 2700 style 'VCF's, Divide by 5, 6, 7 for sub-harmonics. Patching was with tip jacks.
Barely visible above the low end of the Hohner is a primitive sequencer.