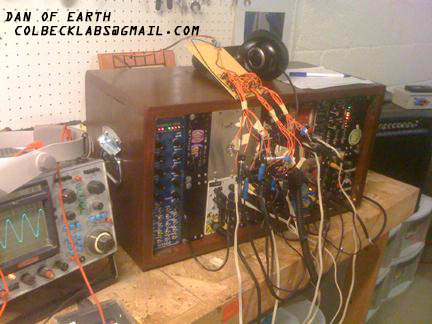 (Milwaukee, WI)
Ancient man gained mastery over his environment through the use of tools--simple machines allowed him to lift heavier objects and kill larger animals. Dan of Earth (plenty primitive himself) uses the same philosophy towards muzak production -- developing machines and algorithms to do things he cannot do himself, like compose and perform "musical" tasks.

Dan of Earth is coming at this noise thing from a far dorkier standpoint than some of his colleagues, as can be seen by his influences: audio artifacts like Symphonies of the Planets, VLF radio, numbers stations, Lou Reed's Metal Machine Music, soundtrack to Forbidden Planet (1956), and anomalous sounds like Bloop and the Taos Hum.

Dan of Earth has spent the last 20 years trying very hard to not learn to play any "real" instruments, and has largely succeeded in this. He uses homebuilt electronic and acoustic devices, and writes simple c++ programs when hardware musical solutions are impractical.

Dan of Earth considers circuit-bending to be "totally cheating", but has no problem stealing "found sounds" from pretty much everywhere.

Dan of Earth's instrument of choice, for many years, was modular synthesizer. In 2014 he switched over to an all Bibletron platform--much easier to carry around and set up! also, far more primitive and weird looking...

Oh Good Grief--Dan of Earth is back on the face book. There's a couple of snippets out on the soundcloud, as well.