Miscellaneous
Infinite Gain, Multiple Feeback Filter
Some references say it's a bandpass; others say high pass. For me, the confusion was cleared up when I found this site. When the input is through a capacitor the response is high pass; when through a resistor, bandpass. (A low pass configuration is also possible.)

The calculations work out differently for each response, though, so one can't expect that frequency and Q will remain the same by simply switching between capacitor or resistor coupling. Still, the circuit can be quite useful for non-critcal applications.

Here are schematics of what I've actually tried, with samples.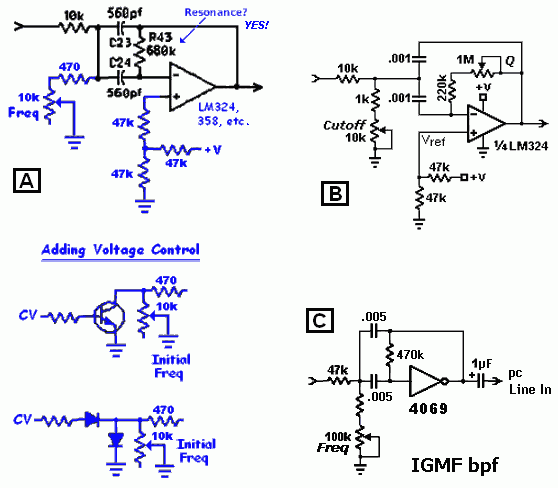 The op amp need not be an LM324 (I even got good results with a cmos inverter in linear mode,) and if powered dual-supply (+/-V,) the Vref voltage divider can be omitted and the non-inverting input grounded.

What initially impressed me was what circuit "A" could do with only white noise as an input.
Almost a cymbal
Closed Hi-Hat
Clap without echo
I wish I had thought of varying the Q on the first two sounds. I got around to that with circuit "B" with a 2-pitch sawtooth as input.
Varying F and Q