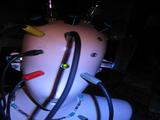 Hi there! Thanks for visiting. Please enjoy some pictures and sounds of my synths.

You can find information for building my PCB projects on the "data/designs" page.
Please contact me directly if you are interested in purchasing PCBs.

Below are a few links to more detailed pics of some synths.

btw - A big thanks to Tom for hosting sdiy.org!!

If you are looking for info on nonlinearcircuits panels, go to nonlinearcircuits blog or contact me via the contact/links page.

UPDATES

24/1/2012 - added a nonlinearcircuits page

12/1/2012 - added a veena circuit

4/11/11 - added an analogue neuron circuit

24/6/2011 I set up a blog page for selling surplus PCBs
and sometimes complete ready-to-play panels
http://nonlinearcircuits.blogspot.com/

10/4/2011 - created page for the 'Best of CGS' panels

19/2/2011 - created individual pages for Mod #2, #3, #4 and the vidsynth.

31/12/10 - couple of progress pix added to clone

4/11/10 - Stage 1 of tube#3 done, pix added

14/10/2010 - added new page Tube synth #3

6/10/2010 - Found a few fixes for the Milton sequencer - Milton seq

27/9/2010 - Dev Gualtieri, the designer of the VOSIM, sent some pictures of the original VOSIM he built in 1977. VOSIM (scroll down)

4/9/2010 - added vers.2 of bindubba5 schematic (tested) and panel design - bindubba5

28/8/2010 - added a new page/design - bindubba5

25/8/2010 - added a new page - Bass Station mods

18/8/2010 - added a new page, just pics for now: Hyperchaos

16/7/2010 - added new vid in tracks, made with pinky and minisyn

1/7/2010 - further updates to bindubba3 schematic & build notes, now veroboard version fully working

23/6/10 - Updated bindubba3 design, built and tested

8/5/10 - Updated bindubba3 build notes

13/4/10 - Uploaded two bindubba1 demos

12/4/10 - Uploaded bindubba3 build notes, includes PCB layout

7/4/10 - Uploaded modded bindubba3 schematic, now with random outputs

1/4/10 - updated build notes & vers.3 of bindubba1 schematic uploaded, no real changes just some labels to try make it a little easier to grok.

31/3/10 - embedded demo vid of bindubba1 in action

30/3/10 - updated bindubba1 panel design and build notes with less errors, added pcb & wiring pix

29/3/10 - added bindubba4 panel design and notes

22/3/10 - Posted short analogue computer vid, embedded vid and description on analogue computer page

20/3/10 - new page and draft schematic in data for bindubba 4 speech module.

18/3/10 - vers. 2 of bindubba2 uploaded, includes locking LEDs and range switches for each stage.

16/3/10 - added panel designs for bindubba 1 & 3, created new pages for projects

14/3/10 - added bindubba3 sequencer schematic & info to data page.